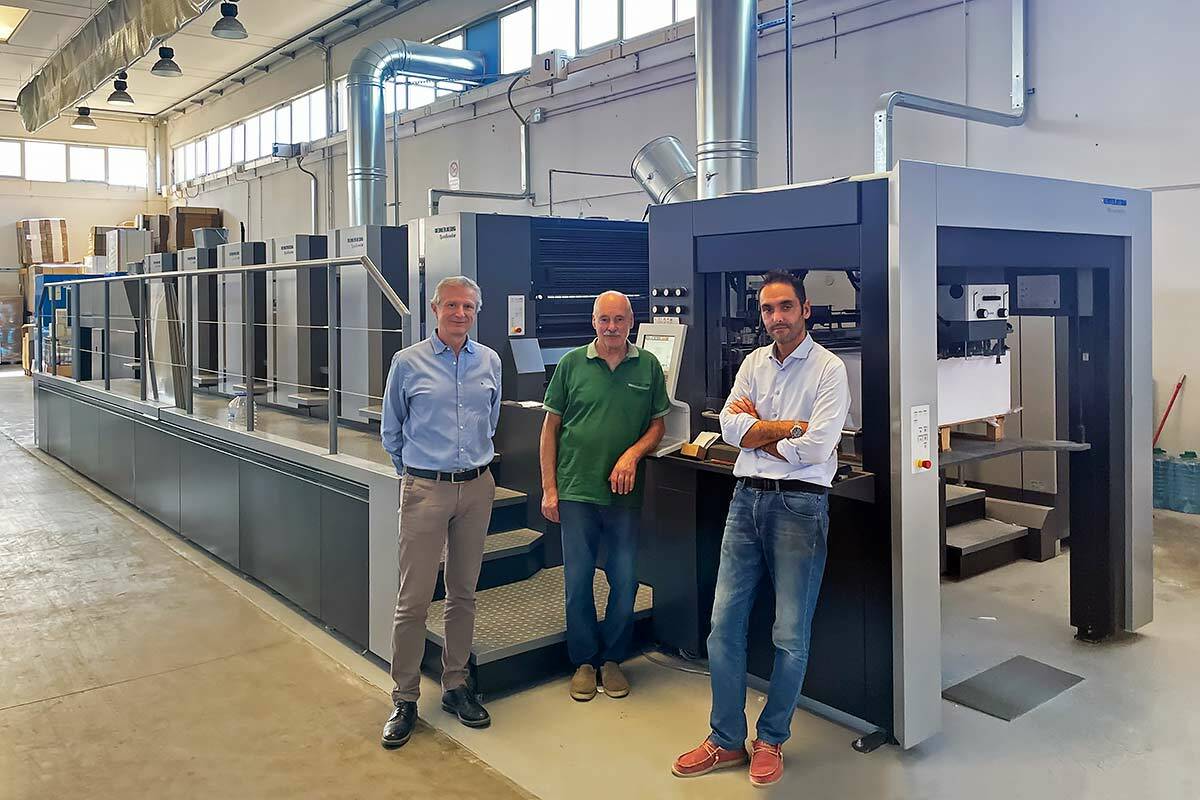 The Italian offset printing company has expanded its prepress workflow in response to demands for faster delivery while maintaining high quality of its packaging products.
Family-owned Tipografia Tommasi was founded in 1958 in Lucca, a city in the Tuscany region of Italy, as a commercial printing company. Investment in new technologies and innovation has enabled a continual expansion of the company, which moved to new headquarters in the early 2000s. Around that time, it entered the packaging market, and this sector today accounts for half of the orders that are processed within the factory.
Managed by father and son Mario and Marco Tommasi, the company employs 15 people and covers all stages of the packaging production process, from design and prepress to printing, hot stamping, embossing, die-cutting and finishing. The client base is mainly concentrated in Tuscany and the neighboring regions but also includes customers from all over Italy.

Extending packaging capabilities
The collaboration with ECO3, formerly Agfa Offset Solutions, began in 2005, initially with the investment in an Apogee prepress workflow along with an Avalon CTP thermal platesetter, bought primarily to automate commercial printing jobs. More recently, Tipografia Tommasi decided to add a new integrated module for the preparation of packaging jobs within Apogee.
"We were already using Apogee in combination with other tools for our packaging jobs, but it was a fairly complicated process that required a lot of manual steps and switching back and forth between applications. It gradually became a real challenge to meet the increasing demand for packaging printing, with customers asking for higher consistency in proofing and printing, impeccable quality and tighter delivery schedules."

Marco Tommasi
To meet those rising expectations, Mr. Tommasi decided to extend the Apogee workflow with the Packaging Pack option which provides increased levels of automation in prepress.

Reaping the benefits of automation
The new software module for packaging enables operators to import CAD die files in CF2 and DXF format, create step & repeat schemes that combine various jobs, export the layouts created or save them in the system libraries for repeat jobs, and export the cutting data. Being able to generate blueprints and color proofs easily were other key points that were considered important in making the decision to invest.
"The new Packaging Pack module allows us to standardize and speed up a series of processes that were previously handled manually by the operators. By automating these steps, we have also taken out the risk of human-errors thereby increasing productivity and reducing waste," said Mr Tommasi.
He further explained that the company is already working towards increased sustainability by using printing plates that do not require chemicals, such as ECO3 Azura TU, and promoting new eco printing papers, sheets and board.


Easy and fast implementation
The Packaging Pack option was installed without disrupting the operation, according to Mr. Tommasi. And because the operators were already familiar with Apogee's straightforward user interface, no additional training was needed to implement the module.
"One of the big advantages of the new packaging module is the flexibility of volume licensing which means that multiple operators can use the Apogee workflow simultaneously for both packaging and commercial print orders," said Mr Tommasi. He concluded, "We saw the excellent results of the new functionalities almost immediately and I'm delighted to confirm that our investment has paid off very quickly."