Unique workflow solutions are helping the Italian company to stay competitive in the challenging local newspaper market.
Established in 1978 and a long-established Agfa (now ECO3) customer, FDA Eurostampa Srl specializes in web offset (coldset) printing of newspapers, magazines, periodicals, manuals, inserts, and advertising flyers.
The company, which is based in Borgosatollo, Brescia, in the Lombardi region of Italy, employs 11 staff and operates a modern fleet of printing and converting equipment, backed up by a state-of-the-art in-house prepress department. ECO3 thermal platesetters and software workflow have played a central role in the company's inventory for many years.
Maximizing production with unique workflow combo
To improve print quality and lower ink consumption, FDA Eurostampa has recently implemented ECO3's new SolidTune software in addition to SPIR@L screening. The Italian offset printing company is successfully leveraging this unique technology combination in the ECO3 Apogee workflow to maximize its web offset print production and deliver impeccable printed products.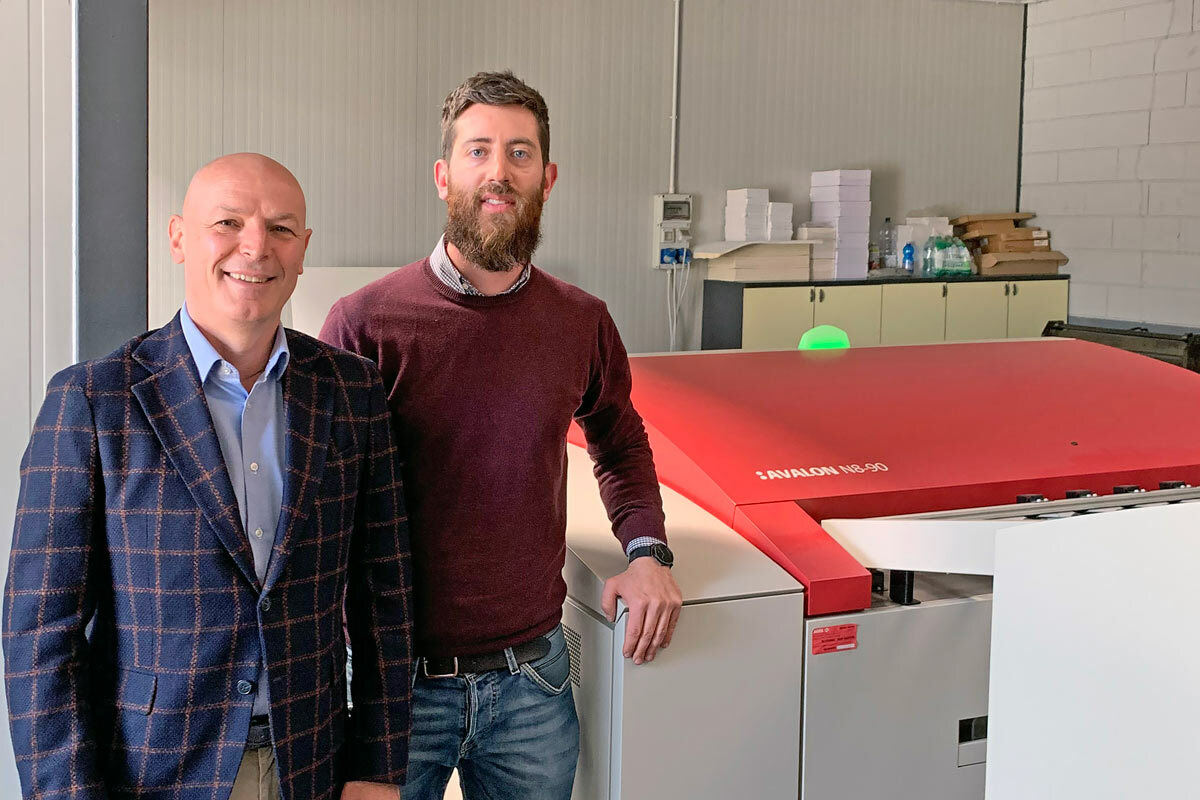 "We started to use SolidTune in our print production together with SPIR@L screening to better manage the inking and drying processes, so we could eliminate problems with paper stress on press and avoid shine-through on the thin papers," said owner Filippo Zamboni (standing to the right, next to ECO3 sales manager Gianfranco Battistutta). 
"The two products have definitely led to a reduction in the thickness of the ink layer, so drying is faster, and the result is much cleaner. Importantly, this has been achieved without making any changes in prepress or printing."
Better quality, cleaner print, and higher sustainability
SolidTune and SPIR@L are part of ECO3's revolutionary program for sustainable innovation. SPIR@L is a patented screening method that replaces traditional dot patterns with spiral shapes which require less ink to fill the space, resulting in higher press speeds, excellent fine print quality, and faster drying times. SolidTune ink optimization software accelerates these benefits by applying a randomized pattern or mask to solids, halftones, and text during the final stage of rendering to reduce the ink consumption even further.
In addition to SolidTune and SPIR@L, FDA Eurostampa applies ECO3's PressTune print standardization and InkTune ink setting management features in the Apogee workflow, making full use of these value-creating and automatic functionalities, all through a single interface.
"We were already achieving a significant reduction in ink use with SPIR@L screening, but this improved even more when we included the SolidTune option," said Zamboni. "The print quality has also been enhanced: the contrast is now much better, the details are sharper, and the text much crisper, plus shine-through of black is visibly reduced. Plus, the product is generally much 'cleaner' to touch with less risk of smearing, and it's more manageable."
A competitive advantage
"I believe that ECO3's portfolio of intelligent software solutions gives printers a great competitive advantage. During beta testing, we quickly realized the benefits of these breakthrough technologies, which enable us to tackle the financial pressures in the coldset print market, so we can remain ahead of the curve, and also increase the sustainability in our production," concludes Zamboni.